Contact us Today
Tel: 01706 378 561
Mob: 07813 739 125
Email: info@rushtonsscaffolding.co.uk
Rushtons Scaffolding Services provide a wide variety of Domestic Scaffolding solutions ranging from some of the simplest chimney access to some of the more challenging roofing and construction projects. As a relatively small firm, we take care of your property and ensure that every job is completed to the highest level of quality and safety. By ensuring our team are fully qualified and our equipment is regularly inspected and maintained, we can provide a safe, efficient services for all kinds of small to large size properties and developments.
We will always provide a bespoke solution for you, whether your project is short term or longer term and, as part of our service offering, we ensure great care is always taken when dismantling scaffolding after completion.
As part of our commitment to safety, we conduct regular inspections and maintenance checks, including risk assessments to further guarantee the safety of our on-site scaffolding projects.
"I have had the pleasure of working with David and his team for a number of years on scaffolding projects. With quality workmanship and competitive prices, I would have no hesitation in using Rushton's again for future works"
" We have employed Rushton's Scaffolding Ltd for several of our contracts for Social Housing recently. They have carried out scaffolding to provide access solutions for roofing works for us.
The team are professional and highly skilled.
We are very pleased with their efficient, reliable and consistent work quality"
Roofing Scaffolding
We Can Provide Domestic Roofing Scaffolding for Properties of All Sizes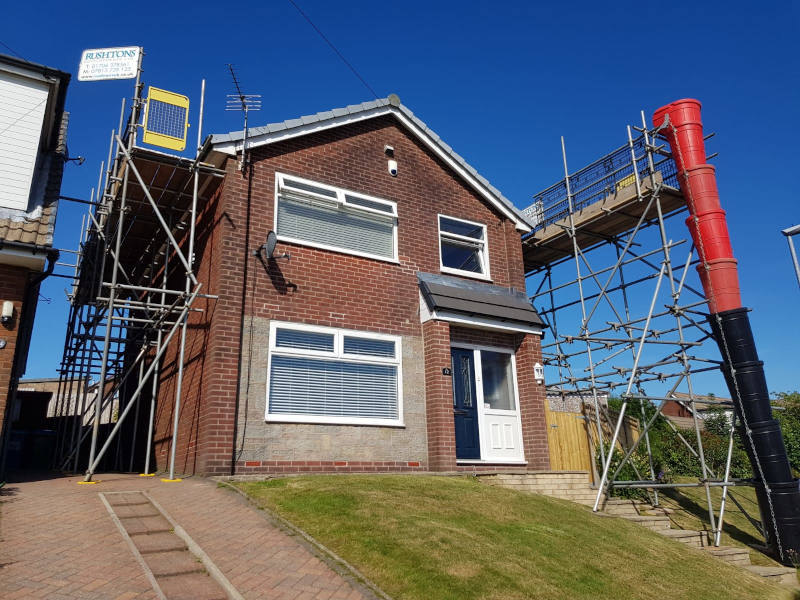 Internal Scaffolding
We Can Provide Domestic Scaffolding Services for Internal Structural Support During Build and Refurbishment Projects
Haki Escape Stairs
We Can Provide Haki Scaffolding Escape Stairs for all of our Scaffolding Projects if Necessary or for longer term projects.
Domestic Scaffolding Project Gallery
We have the safety accreditations and comprehensive liability insurance in place for peace of mind throughout our work.
We make sure all of our services are covered under contract from initial enquiry through to project completion and sign off.
We work with specialist scaffolding designers to ensure the highest levels of safety at all times.
We conduct a weekly inspection to audit health and safety measures.
Long and short term flexible hire periods are available.

Our Contact Details
Tel: 01706 378 561
Mob: 07813 739 125
Email: info@rushtonsscaffolding.co.uk